Take on harsh liquids and solids easily with the new IP69K-rated LR signal tower and NE compact beacon from PATLITE.
This new IP69K signal tower and compact beacon meet the most stringent IP69K intrusion protection rating, making them highly protective against machine dust and water while preserving the device's lifespan in harsh conditions. With these new builds, these robust signaling solutions excel in high-temperature, high-pressure, steam-jet washdown environments.

PATLITE's new IP69K-rated products stand out in the food, beverage and pharmaceutical industries, where stricter hygiene controls are required in environments where equipment must be carefully sanitized to function correctly. Moreover, this includes inspection, processing, labeling, filling and packaging lines, among others.
Meet the New Signal Tower and Compact Beacon
Tough, durable and ready for any liquid or solid you throw at it, PATLITE's new LR6 IP69K tower light features the same modularity you come to expect from a PATLITE LR signal tower with a new and sturdy IP69K-rated build. Available in up to five color module tiers (red, amber, green, blue, white), the new IP69K LR6 signal tower offers curated customization, so you won't be limited by the typical out-of-the-box product presets that do little to meet the unique demands of your factory configuration.

Similarly, PATLITE's new small but mighty IP69K-rated NE signal beacon packs a powerful build in a compact form factor to save valuable real estate in a high-temperature machine or workstation. The NE compact beacon option comes standard with a multi-color display of seven illumination colors (Red, amber, green, blue, white, cyan, purple) for flexible notifications.
Both products come equipped with an M12 connector for easy installation. The LR6 features a 12-in M12 connection allowing for flashing and buzzer functionality, while the NE beacon features a five-pin M12 connection. These M12 configurations streamline the connection process and save valuable man-hours for your business. Furthermore, In harsh environments where products experience more wear and tear than usual because of high-temperature water and detergents, an M12 connection makes part replacement easier. These new IP69K products also comply with several major standards/regulations worldwide (CE, UL, FCC RoHS and more) for safe and use in any workplace.
Development, Testing and Worldwide Compliance
Here at PATLITE, we strive to offer innovation and value of state-of-art products that meet the ever-increasing demand of our customers globally. With these standards that we set in mind, we continue this commitment to excellence with the rigorous development process of our new IP69K product line.

During our testing, we sprayed hot water at 80°C onto the test sample from a nozzle with a specified shape at a water pressure of 80 to 100 BAR. The amount of water is 14 to 16 liters/minute. Our demanding product testing sample is not adversely affected by the high-temperature and high-pressure/steam jet cleaning environment that we tested on our product samples.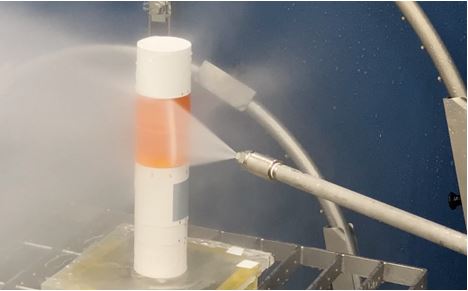 APPLICATION EXAMPLES
Application Example #1

A medical facility must adhere to strict sanitization regulations to be deemed clean and sanitary and owns several types of equipment and machines safe for high-temperature and high-pressure washdowns. As with a standard facility, this pharmaceutical location requires robust and durable machine signaling and overall indication for its operators to be alerted of any harm or potential emergency. With PATLITE's new IP69K-rated LR6 signal tower, the facility and its works can be at ease, knowing its signaling solutions will and wither and will excel in the harsh nature of its environment and can withstand high temperatures and high pressure. The medical facility will know its machines are working correctly thanks to the addition of PATLITE's new IP69K solutions.
Application Example #2

A food and beverage processing facility deals with various kinds of meats, vegetables, and beverages. To prevent cross-contamination, it has the necessary equipment to blast away any leftover debris to maintain its rigorous sanitary conditions and continue processing at workstations. By introducing PATLITE's new IP69K-rated NE compact beacons as its workstation safety indicators, the flow will not be interrupted and the beacons will withstand its cleaning protocols. Additionally, the compact form factor of the NE signal beacon can fit on any machine or workstation, making it a versatile option at any location. At workstations where factory real estate is not an issue, the facility can also implement the new IP69K-rated LR6 signal tower for a more curated signaling experience.
Order Today

Contact us to get PATLITE's new IP69K-rated LR signal tower and NE compact beacons for a superior status indication from a global leader in audible and visual signaling. Tailor the new IP69K LR6 signal tower to meet your unique factory standards, or choose the compact IP69K NE signal beacon with seven available colors ideal for small equipment.
Recent Posts
The mainstay of B&R's software development is AUTOMATION Studio. With the help of this inte …

Take on harsh liquids and solids easily with the new IP69K-rated LR signal tower and NE compact bea …

With ever-changing production goals and tighter timelines, you need easy-to-use solutions that eleva …